HISTORY – BARONESS ANGELA BURDETT-COUTTS
Once travelers to Britain have visited the major sites of London, many may begin to take some time out and experience a calmer side of the city. London may be famous for the Tower, Changing of the Guard and the British Museum, as well as being the home of the Mother of Parliaments, but the city has much, much more to offer. The city is also famous for its many theatres and many parks. And speaking of parks, did you know that it is possible to walk from the Houses of Parliament by way of St. James' Park, Green Park, Hyde Park and Kensington Gardens to the exhibition centre of Olympia and do so by walking on greenery alone. This is a distance of three miles. This is remarkable in a city of London's size.
.
| | | |
| --- | --- | --- |
| | | |
| Hyde Park | | Kensington Gardens |
| | | |
| --- | --- | --- |
| | | |
| St James's Park | | Green Park |
There are over 1,700 parks and open spaces in an area of about seventy square miles however, as remarkable as the formal parks and gardens are the small gardens found in front and behind the houses are often quite spectacular in their own rite. Springtime in London can be a remarkably beautiful time as many small streets and many gardens of private homes become festooned with a mass of colour from the blossom on the trees.
As a child, my parents took me to many of the parks and gardens in the city. We would often walk through Hyde Park and Kensington Gardens. I would enjoy seeing the Albert Memorial and the Peter Pan statue. We would occasionally feed the ducks in St. James' Park, which was something I took a delight in doing. However, despite its majestic beauty, we would only go to Regent's Park only once a year and this was to see the parade and competition held for the working horses of London. My mother found visiting this park to be somewhat disagreeable since it houses the London Zoo. My poor mother found it difficult to tolerate the odour that permeated the park. This did not please my father who enjoyed going to the zoo. As a child, I was with my mother and did not care for the place.
| | | |
| --- | --- | --- |
| | | |
| The Albert Memorial | | Peter Pan Statue |

Harness Horses Parade
London has many wonderful markets, but I am fondest of those that take place on Sundays. One such market, little known to tourists or to most Londoners for that matter, is the Sunday flower market that takes place every week – rain or shine –unless Christmas Day falls on a Sunday, that is – on Columbia Road, found between Old Bethnal Green and Hackney Roads close to where the old Boroughs of Bethnal Green and Shorditch met. Over the years, I have been fortunate enough to visit many flower markets in other places, including the wonderful one held each weekday in Amsterdam on the Singel Canal and the one held on the Ile de la Citee in Paris, and as grand and as spectacular as these markets are, I am fondest of the Columbia Road Market. I am sure that this is most likely because it holds many memories for me.
| | | |
| --- | --- | --- |
| | | |
| Flower Market on the Singel Canal, Amsterdam | | Marche aux Fleurs, Ile de la Citee, Paris |
The market was founded by Baroness Angela Burdett-Coutts in 1869. The Baroness was born on 24 April, 1814 and was herself, an interesting and colourful character. She became renowned for her philanthropic activities and was once heralded as the richest heiress in England. She was a colourful character and the public was fascinated by her. She was famous for the parties that she threw at her house in Highgate, which was then outside of London. She and her companion, Hannah, were considered a couple by notable society until Hannah's death in 1878. They went everywhere together and were welcomed into the homes of the rich and famous. In 1881, the Baroness surprised society by marrying her 29-year old secretary, an American-born Member of Parliament. She was 67–years old at the time. Although he took her name, which was common when marrying an heiress, he did not gain her title.
The Baroness Burdett-Coutts when young and in later years
The Baroness spent most of her wealth on scholarships, endowments and a wide variety of philanthropic causes both in England and around the world. She supported, with Charles Dickens, a home for young women wishing to escape their lives as prostitutes, as well as multiple endeavours in Africa. She had the granite fountain of the Greyfriars Bobby statue in Edinburgh made and established the National Society for the Prevention of Cruelty to Children (NSPCC). She also paid for the church bells for St. Paul's Cathedral and had built many drinking fountains for dogs. She worked with Florence Nightingale and others in care for the sick and the infirm, she subsidized housing for the working class, paid for soup kitchens and helped place hundreds of destitute boys in training ships so saving them from lives of crime on the London streets. However, much of her work was centred on the East End of London. She has a street named after her – Burdett Road – which runs north from the old West India Docks in Poplar up to Mile End Road in Stepney, whereupon the street name changes to Grove Road, which continues north and transects Victoria Park in Bethnal Green.
The Baroness died of acute bronchitis on 30 December, 1906 and by the time of her death it was said that she had given more than £3 million to good causes. She was buried on 5 January, 1907 near the West Door in the nave of Westminster Abbey. In 1871, in recognition of her philanthropic work, Queen Victoria conferred a peerage on her under the title Baroness Burdett-Coutts of Highgate and Brookfield in the County of Middlesex. In 1872 she became the first woman to be presented with the Freedom of the City of London and in 1874 she became Edinburgh's first woman Burgess and was also given the Freedom of the city. The Turkish Government honoured her for her help given to peasants and refugees and Charles Dickens dedicated Martin Chuzzlewit to her. All in all, she was a remarkable woman who did not sit idly by and watch as others suffered.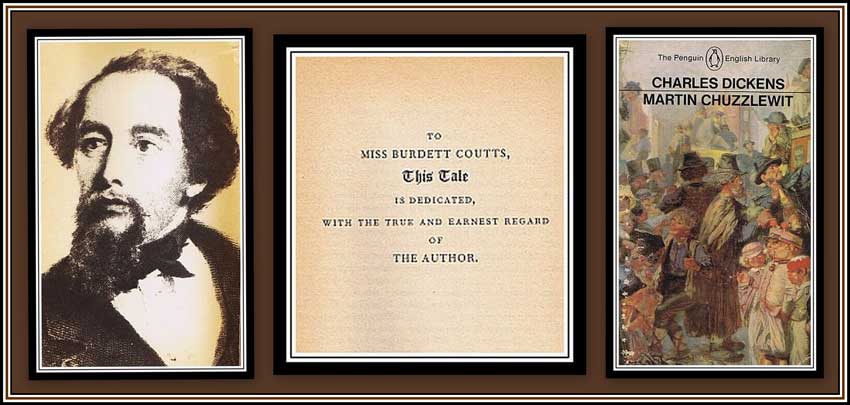 Columbia Road Market was built upon an area known as Novia Scotia Gardens. This was the site of an old brick field where the brick clay had been exhausted and which began to be filled in with refuge. The sheds surrounding the one-time field had been turned into cottages, but were undesirable since they were below ground level and subject to flooding. In 1830, the area became plagued with the activities of a notorious gang formed by three men, including a particularly frightening fellow known by various names including Jack Sirabout and Black-Eyed Jack. Collectively, the gang was known as the Resurrection Men. The Gang stole freshly buried bodies and sold them to the London medical schools. In November1831, they delivered the fresh corpse of a 14-year old boy to King's College in The Strand. The gang was arrested, tried and convicted and later hanged. The gang admitted prior to their hanging that the corpse in question was not that of a youth, but of a passing drover on his way to Smithfield. The public, it seemed were fascinated by the gang and apparently the police, seeing a good thing, opened the villains' premises for viewing and in doing so charged five shillings for the right to visit! The public did indeed come, and demanding souvenirs, removed the dwelling, piece by piece until nothing remained! By 1840, the area had degenerated into a notorious slum and it was following the decline in the fortunes of the area that prompted the Baroness to purchase the land and establish the Columbia Road Market.
The original market was a tall Gothic-styled building capable of holding four hundred stalls on the ground floor with flats above. The original intention was that food should be sold in the market. Unfortunately the building was never popular with the costermongers and selling soon moved out into the street. The covered market was closed in 1886 and became used as warehouses and workshops until its demolition in 1958. The site was then redeveloped as a nursery school. Only the wrought iron railings of the original building remain today. Originally, the market operated on Saturdays, but moved to Sundays to allow the local Jewish costermongers to sell their wares. This change in day also allowed traders from other markets to sell their leftover inventory from Saturdays here. Making this change required the passage of an Act of Parliament since trading on Sundays was strictly against the law at that time. The selling of flowers and birds was introduced by the protestant Huguenot immigrants that populated Spitalfields and part of Bethnal Green following their departure from France.
The Columbia Road Market flourished as a flower and plant market until World War II when it fell upon hard times. Two events helped bring about its decline at that time. Firstly, flowers were not produced for sale to the public at that time, and secondly, in 1940 a large bomb hit the shelter beneath the market causing great disruption to the area. However, like a phoenix rising from the ashes, the market enjoyed resurgence in the early 1960s and each Sunday morning between 8 a.m. and 2 p.m., it is now filled with an ever increasing number of costermongers and customers from all over London and elsewhere.
As a child, I remember being taken to the Columbia Road Market on many occasions. The market was not as large as it is today and I am sure that there were not the same variety of plants available to the public at that time. However, I have fond memories of the place even though I cannot say that I found it to be especially interesting. However, for behaving myself and for not getting lost in the crowd, as well as for not making a fuss, I was rewarded with lemonade and a bag of crisps while my father enjoyed a drink in the pub once his perusing was done.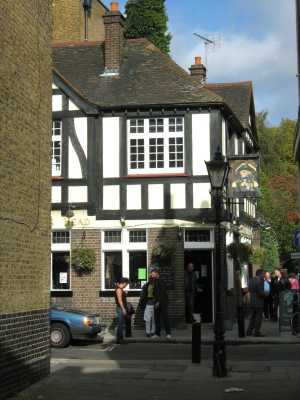 .
.
THE HUGUENOTS
The Huguenots were members of the French Reformed Church. In the early sixteenth century the group, influenced by the writings of John Calvin, became more and more critical of the doctrine and manner of worship as practised by the Catholic Church. At first, the King of France, Francis I (reign 1515-1547) protected the group against the wishes of Parliament. However, following the The Affairs of the Placards in 1534, where anti-Catholic posters appeared in various French cities as well as in the King's bedroom, protection ended. This resulted in the Huguenots suffering religious persecution including attacks on both preachers and worshipers. This reached its peak in 1572 with the St. Bartholomew's Day massacre, a series of assassinations together with mob violence, believed to be instigated by Catherine de'Medici and occurring six days after the wedding of the King's sister to the protestant Henry III de Navarre (later to become King Henry IV of France). The wedding was attended by many of the most wealthy and prominent Huguenots. Although the number of deaths is unknown, it has been estimated between five and thirty thousand and resulted in the loss of many prominent leaders of the group. It is estimated that at their peak in 1562, the Huguenots totalled about two million amongst sixteen million Catholics, but following the massacre, their number markedly declined. Despite this, retaliation against Catholics occurred with the taking of a few Catholic cities and the destruction of monuments and shrines.
John Calvin
France during the Huguenot Wars
(Click the map to enlarge)
The King's Sister and Henry IV
Henry IV
| | | | | |
| --- | --- | --- | --- | --- |
| | | | | |
| Massacre | | Catherine De Medici | | St. Bartholomew's Day Massacre |
By the end of the 17th Century huge numbers of Huguenots were driven out of France. Many settled throughout Northern Europe, while others went to South Africa and the Americas. Those that went to North America were not welcomed in Louisiana. A large number of refugees came to Britain where they were to have a marked influence on the society as a result of the trades and crafts that they practised. These included weaving, lace making and market gardening. In 1550, the French Protestant Church of London was established by Royal Charter and today the church is found in Soho Square in the West End.
Many immigrants settled in Kent and in particular in Canterbury. The Archbishop allowed them to worship in a specific area of the cathedral where, even today, there is a weekly service delivered in French. A large number migrated to London and settled in Shoreditch and part of Bethnal Green. They established a weaving industry in the Spitalfields area, which over time moved south into Whitechapel. The Huguenots were responsible for introducing the selling of plants, flowers and caged birds to the Columbia Road Market, which eventually became the main products traded there. The Huguenots did not construct many buildings or roads in this area and so there are few reminders of their presence in the East End except for a few weavers' cottages and Weavers Field, a large green space to the west of Bethnal Green Road.
Weavers' Cottages in
Hare Court, Spitalfields
Huguenot Weaver's House
at the corner of Brick Lane
Weavers Fields,
Bethnal Green
Memories of the Huguenots
Other Huguenots settled in Wandsworth where their gardening skills were to influence market gardening at Battersea. A number of refugees migrated north of London and settled in Bedfordshire, which was the centre of the lace-industry at that time and where immigrant Walloons from Belgium had settled earlier. Yet another group moved to Norwich and became involved in the wool industry already of importance thanks to the earlier presence of Walloon weavers. At one time, the Huguenots and Walloons together made up one third of the population of Norwich.
Once the Napoleonic Wars ended and normal relations resumed with France, French silk began to be imported and the market fell out of the British silk trade, which was run by the Huguenots. As a result, many turned to other trades including furniture making. I remember my mother telling me that Gibraltar Walk, which is a small street off Bethnal Green Road, was once home to small furniture factories. She said that she and her elder brother once worked in one as French polishers.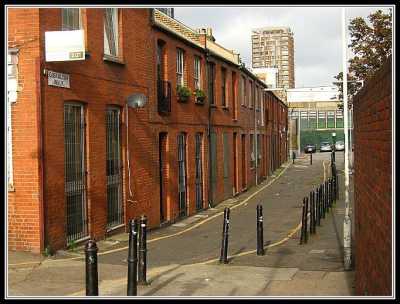 Gibraltar Walk, Bethnal Green
For further details of the history of the Huguenots, the reader is referred to http://en.wikipedia.org/wiki/Huguenot#Britain_and_Ireland.
.
.
GREEN FINGERS AND THE DECORATIVE CABBAGE
My father loved plants and even though we lived over a shop when I was a child and had no real garden, he somehow was able to pursue his love of horticulture. My father was a complex and oftentimes difficult man and was a jack of all trades. Amongst the many talents that he thought he had was making plants grow. He was born in Edwardian times in Dulwich, an area where more the more well-to-do working class lived. His father was a printer with one of the large newspapers in Fleet Street and was a hard-working man who neither beat his wife nor his children. The family did not have to share their house with any other family and my father was able to grow up in relative peace and security. He had only to share his bedroom with one younger brother, but had his own bed. His childhood was in stark contrast to that of my poor mother, whose own upbringing, or rather lack of it, proved to be more Dickensian in nature.
In the early years of the twentieth century, fashion dictated that all homes of good repute, regardless of social standing, possess an Aspidistra plant. This herbaceous plant was housed in a decorative pot and proudly displayed on a tall wooden stand placed in the front room window. Here the plant not only got the best light but could be shown off to the neighbours since there was an unspoken competition between them as to who grew the best plant.
My father enjoyed going to parks and gardens and especially liked Sunday evening walks during spring and summer in Victoria Park. He would spend an age gazing at the tulips, daffodils and roses and I recall him being almost mesmerised. When I asked him if anything was wrong, he would shake his head and then wax lyrical about the site before us. He loved plants and thought that he had green fingers. Although a competent gardener and an extremely industrious one, unfortunately his talents were limited. Sadly, and despite great efforts, only the hardiest vegetation grew for him. I can personally attest that his fingers lacked even the slightest tinge of green! Try as he might, tulip, daffodil and crocus bulbs failed grew neither in number nor in statue as promised by the sellers. Creepers would start to creep, but then stop, shrivel and die despite the generous application of fertiliser, suitable quantities of water and the whispering of loving and tender words! Tragically more exotic foliage was even less kind to him. Once brought home, these fickle foliages promptly lost their leaves, turned dark brown and drooped! It was only the faithful Geranium that responded to his love and care. And for this, he was most grateful. Despite wanting to raise palms, birds of paradise and other exotic and luxuriant plants, he eventually settled for the hardier Geranium and learned to love and nurture them.
Except for the summer, our home resembled a vast hot house where each windowsill, each spare table top and any unused cupboard became home to my father's cuttings. These he had taken from his precious Geraniums the previous autumn and had nurtured them with loving care through the winter months. First they were kept in a dark place, generally in an especially dark area of the cellar beneath the shop where even the dog feared to tread. Once spring came, everything would have to make way for his plants, since now it seemed they required light and needed to be either on windowsills or close by. Whenever he felt it necessary, everything had to make way so that each plant came to the kitchen for watering in and around the sink. Because of the sheer numbers, this was a massive undertaking. Plants were left to drain in and around the sink and on the draining boards for what seemed an eternity. Much to the chagrin of my mother, my father always failed to clean up properly afterwards and words would be exchanged. Once these cuttings grew to be full plants, they were taken into the tiny yard that existed at the back of our living area over the shop. Here they were transplanted them into larger plants and were now deemed ready to take their place in his garden.
Our shop projected by about four feet into the street beyond the living area above it. As a result, my father turned this parapet or ledge into a garden. He filled it with a number of wooden tubs, which were beer barrels cut in two. In them, he planted a variety of hardy plants, but his pride and joy was his Geraniums. In summer, his garden was transformed into a mass of colour and made for a spectacular sight, which lasted throughout the whole season. The shop's customers constantly praised him for making the area attractive. My father was in constant need of praise and had to be handled with kid gloves, as he flew into a rage whenever it was not forthcoming from my mother and me. However, his response to praise from others was different and was met somewhat offhandedly and accepted in an almost gruff and begrudging manner. As a child, I found his behaviour confusing. My mother, in her usual jocular and somewhat sarcastic way, referred to my father as Farmer Jenkins at such times and dismissed his behaviour with a shrug.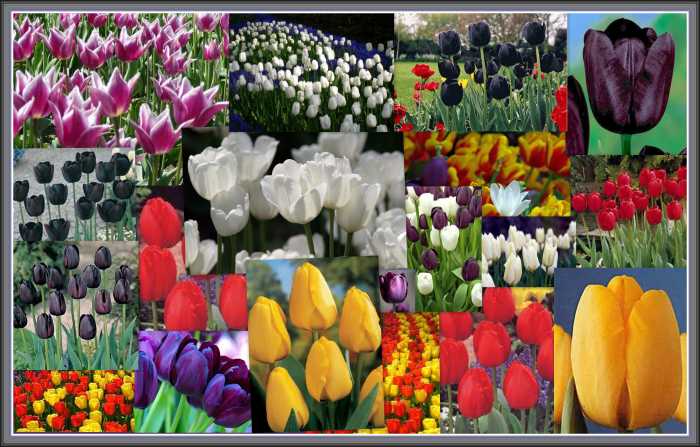 In addition to having plants on the parapet above the shop, my father would also have one or two small baskets of Geraniums hanging over it. Although these dangling baskets were maintained high above the street and made for a pretty sight, they could cause some annoyance to passers-by when he watered them! Having one or two hanging baskets obviously proved insufficient for my father, as he soon had additional ones hanging from the ceiling of the shop. These baskets had been mounted high and quickly proved difficult to maintain. With sadness, he brought them down and they sat outside for a few weeks until he came up with the idea of bringing them into our home. At first the news of this caused my mother to say: Oh no, not more plants! However, once he arranged several in the doorways between rooms and on the stairs, she was converted and found them a delight.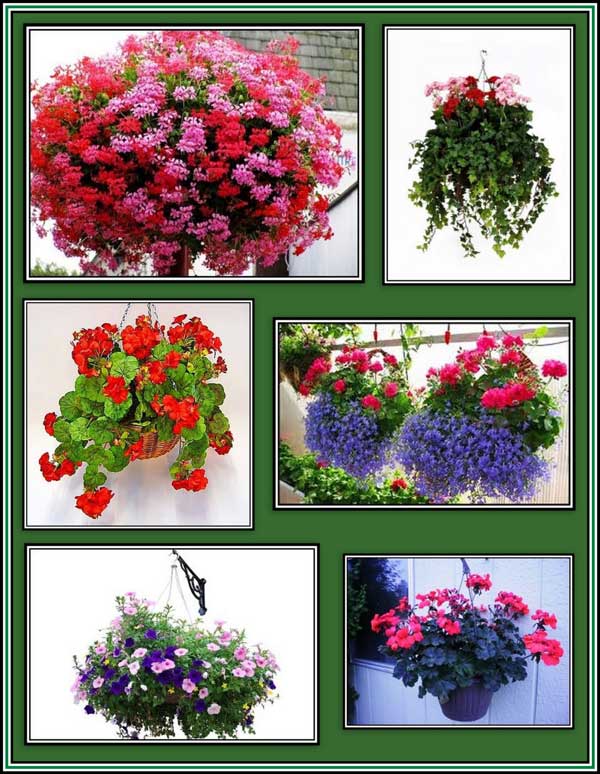 From then on, hanging baskets became a part of our home. This proved fine until we moved from the shop and into a house with a winding staircase complete with landing. My father discovered the most awkward of places to arrange his hanging baskets and it was then that they became a source of annoyance to me. As both my parents were short – my father being five feet one inch and my mother four foot eleven, although she refused to admit to this height and died believing that she was five foot! – it mattered not to them to have baskets of plants hanging and dangling in doorways and over stairways. My father arranged them so as to avoid their hitting their heads. However, he seemed totally oblivious to the fact that I was growing and soon would outgrow them! I eventually grew to be about five feet ten inches and although this did not make me a giant, it nonetheless made me one in a land of people like my parents! Throughout my youth, I had to contend with low placed mirrors and had to be constantly vigilant when I went through a doorway or up some stairs as I risked getting a whack on the forehead or nose from a dangling object. Whenever I was assaulted by one of his baskets, my father's first concern was for the condition of his precious plants and I would be told to be more careful in future! Little concern was shown for me and the lump developing on my forehead would be dismissed as nothing! It seems that I spent my later youth bobbing and weaving through a maze of hanging plants. Today, I have learned to admire decorative flowers cascading down from hanging baskets whenever I see them in gardens and parks and I never fail to stop and admire them. However, despite my admiration, I cannot forget the trauma experienced in my youth and so you will find no such menacing dangling objects in my home!
My father would love to go to Columbia Road Market on a Sunday morning. He would spend hours wandering the stalls looking for that perfect plant. He would talk to the vendors, ask about the plants and their prices and ask how best to maintain them. After making his selections, he would go to his favourite pub in the area and think about his purchases. Sadly, the plants never managed to live up to expectation. Creepers and Aspidistras came and went. He was often in despair, but alas, nothing that he did helped these plants survive beyond the autumn. Only the precious Geranium survived.
One plant that he persisted on trying to make grow was the decorative cabbage. This was an especially ugly plant to my way of thinking, but being young at the time, I was not overly fond of the species be it decorative or edible! These plants were popular during my father's childhood and were seen in parks even when I was a child. They varied in colour but I seem to remember that most were dark red. Regardless of their colour, they all looked to me like throwbacks to Dinosaur times! My father nurtured these vegetables in the backyard, but try as he may, they did not flourish. He would blame the cats of the area for their demise and was convinced that these animals urinated on his precious plants. Many times he got into arguments with neighbours and fell out with them when he accused their precious animals of deliberately relieving themselves over his precious plants. Again my mother dismissed his behaviour as that of a madman!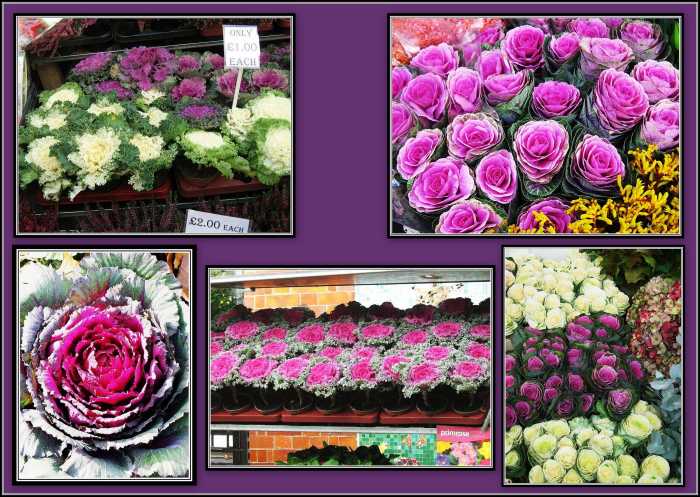 Whenever I come to London, I always visit the market early on a Sunday morning. I like to take the bus that replaced the old trolleybus that once ran from remember my mother telling me that Hackney Road was once a wealthy Liverpool Street Station, along Bishopsgate and onto Hackney Road. I road become seedier and can no longer brag of being a road of distinction. I where the well-to-do used to live. Sadly, over the years, the road has always get off the bus at the I cross over the road and walk down the little winding street that takes Bingo Hall, which once was the beautiful Odeon. me to the market.
Although the market is basically the same, it has grown in size and the clientele has increased in number. The street is filled with customers from an earlier hour now, the pubs are a little busier and the range of goods has increased. There are more shops open now including a wonderful bread and cheese shop just off the market that offers wonderful treats for the hungry visitor. I wander the stalls and look at the plants with interest, and on occasion, I ask a question in memory of my father. I note with amusement that the colourful cabbages are still on sale. Obviously things do not change as much as we think and for this I am sure that the Baroness and my father would be happy.
Thank You to Ms. Mary Frisby for her picture contribution.
.